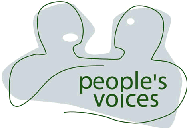 Advocacy in Milton Keynes

Adults with Learning Disabilities
The Milton Keynes project started in September 2002,
as advocacy especially for adults with learning difficulties.
We will support any adult with a learning difficulty with a wide range of problems including housing issues, financial issues and child care proceedings.

We encourage self referrals, but a referral form is available
for professionals. (click here)

Sam Marshall is the advocacy support manager for the Milton Keynes project and all initial enquiries should be forwarded to her.

People's Voices
PO BOX 5447
Milton Keynes
MK6 2WS

Telephone:

Email:

We are always looking for new volunteers to train as advocates and if you would like more information on becoming an advocate please click on to the Volunteering page or download an application pack from the bottom of this page.


Application Pack can be downloaded by clicking here
(A PDF file will open in a new window)

Training Courses are held at frequent intervals -

for details of next course click here

Please phone for details